Climbers of all abilities summit Devils Tower every year. Will you be one of them?
Some travelers are content walking the trails around the base of Devils Tower. Others have an overwhelming desire to scale to the top.
Hundreds of parallel cracks divide Devils Tower into large hexagonal columns. These features make it one of the finest traditional crack climbing areas in North America. The cracks vary in length and width: some are wide enough to fit your entire body, others barely have room for your fingers; the longest crack extends nearly 400 feet upwards.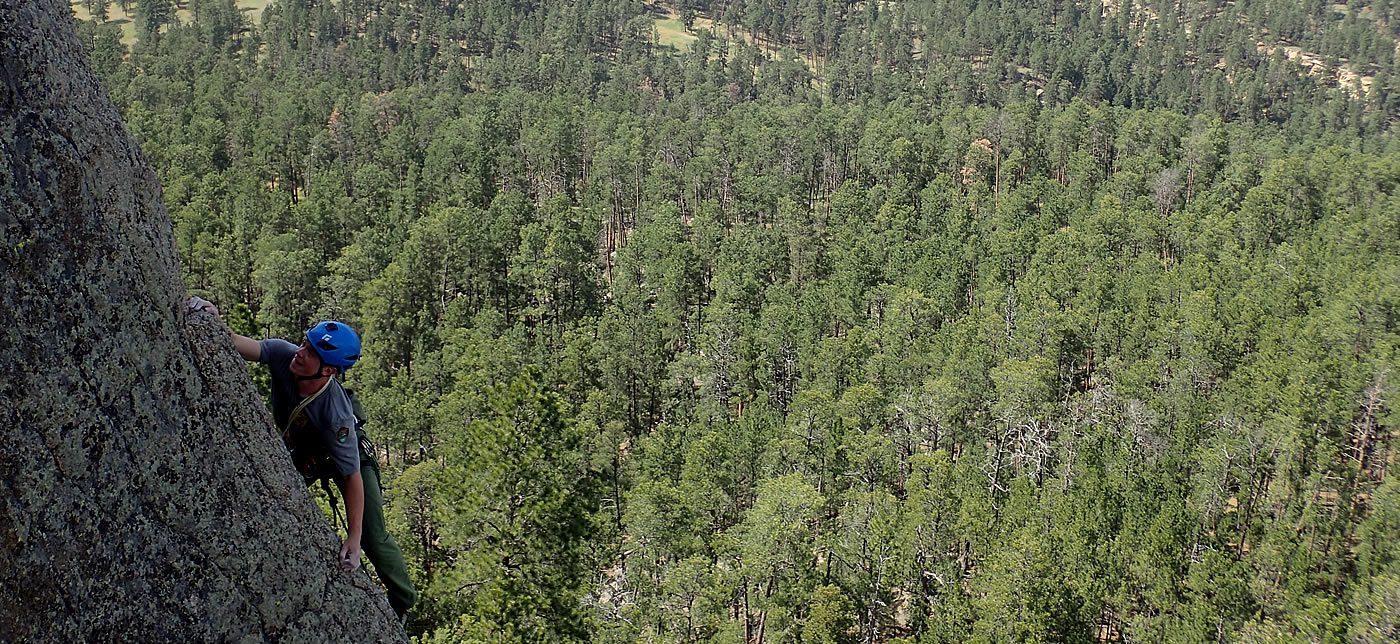 According to the National Park Service, "Technical difficulty ratings range from 5.7 to 5.13; many modern climbers consider the oldest routes (Durrance and Wiessner) harder than their original ratings. The majority of routes at the Tower are not bolt protected and require the appropriate selection of camming devices or other temporary anchors. The few bolted face climbs that exist were established in the 1980s and 1990s; the condition of some bolts reflect that era."
Climbers are required to register with the National Park Service prior to scaling the Tower.
Failure to obtain a permit is subject to citation and fine. You may also want to be aware of the June Voluntary Climbing Closure. June is a culturally significant time when many (but not all) Indian ceremonies occur. Although voluntary, many climber chose to refrain climbing during this month.
Climbers are encouraged to check the weather and research their planned climb route before scaling the Tower.
If you plan on climbing the tower we suggest using one of the county's local guide services.
Several commercial guides are available for those who would like to climb the Tower, but aren't comfortable with an unguided adventure. Their websites address the big questions relating to fitness level, skill level and more. Excursions are available for those who have never before climbed! We encourage you to click through and make plans to reach new heights in Devils Tower Country. The view from atop the Tower is worth the trip.
Find a guide:
National Outdoor Leadership School
More Information:
Devils Tower National Monument